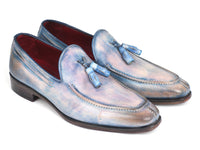 Paul Parkman Tassel Loafers Lila Hand-Painted (ID#083-LIL)
$607.00
Step into style with the Paul Parkman Tassel Loafers Lila Hand-Painted (ID#083-LIL). Perfect for the man who knows his style, these loafers embody a cool, casual elegance. With their split-toe design and a patina effect painted leather upper, they are the epitome of sophistication.
Featuring an antique burnished leather sole and bordeaux leather lining and inner sole, these shoes are not just about looks. They're about comfort and quality too. Remember, these loafers are made-to-order, so you might have to wait for about 15 days, but they're worth the wait!
And here's the fun part - every loafer features hand-painted, couture-level creations. That means each pair has a unique hue and polish. The color may differ slightly from the picture, but that's because your shoes are a one-of-a-kind masterpiece!