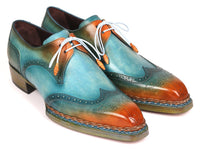 Paul Parkman Norwegian Welted Wingtip Derby Shoes Turquoise & Tobacco (ID#8506-TRQ)
$1,185.00
Slip into the world of timeless style with Paul Parkman's Norwegian Welted Wingtip Derby Shoes in charming Turquoise & Tobacco tones (ID#8506-TRQ). Expertly crafted by hand, these shoes showcase the striking Norwegian hand-welted construction. The vibrant hand-painted leather upper in turquoise and tobacco hues blends seamlessly with the classy bordeaux leather lining and inner sole. Thanks to the double leather sole, you're assured of extra durability and comfort.
Because we value uniqueness and individuality, each pair of our shoes is hand-painted to create a couture-level masterpiece. As a result, the hue, polish, and colour of your shoe may differ slightly from the picture, giving your shoe its unique character.
As a made-to-order product, please allow up to 15 days for the delivery. We promise it's worth the wait!