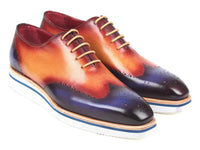 Paul Parkman Men's Smart Casual Wingtip Oxfords Blue & Camel (ID#188-BLU-CML)
$483.00
Paul Parkman Men's Smart Casual Wingtip Oxfords Blue & Camel (ID#188-BLU-CML) are the perfect choice for the modern man looking for both style and comfort.
These oxford style shoes feature a handpainted upper in blue and camel, a cream white rubber sole, and a perforated wingtip and toe for a sophisticated yet casual look.
The interior is lined with leather and the inner sole is also made of leather, providing all-day comfort for your feet.
This made-to-order product will be delivered to your doorstep within 15 days. Please note that due to the hand-painted nature of these shoes, each pair will have a unique hue and polish, making them one-of-a-kind.