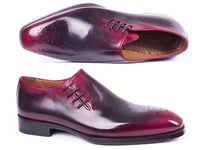 Paul Parkman Men's Side Lace Oxfords Purple & Gray (ID#846F11)
$658.00
Hey there, shoe lovers! Add a dash of style to your wardrobe with Paul Parkman Men's Side Lace Oxfords in Purple & Gray (ID#846F11). These aren't just any ordinary shoes - they're hand-painted leather oxfords with a cool medallion toe. The purple and gray upper gives them a unique vibe, while the purple burnished leather sole adds an extra touch of class.
Inside, you'll find a natural leather lining and inner sole, ensuring maximum comfort and durability. And because we care about giving you the perfect fit, these shoes are made-to-order. Just give us 15 days, and we'll deliver them right to your doorstep.
As these shoes are hand-painted and created with couture-level attention to detail, you may notice a slight difference in hue and polish from the picture. But don't worry - it just adds to their unique charm!