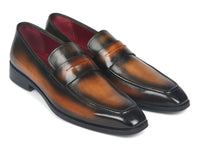 Paul Parkman Men's Penny Loafers Olive Brown (ID#10LZ24)
$579.00
```html
Paul Parkman Men's Penny Loafers Olive Brown (ID#10LZ24) are the perfect slip-on shoes for men who appreciate style and comfort. Made from hand-painted calfskin leather in a rich olive brown color, these loafers are a timeless addition to any wardrobe.
The antique finished leather sole adds a touch of classic sophistication, while the interior is lined with luxurious bordeaux leather. The inner sole is also crafted from high-quality leather, ensuring a comfortable fit with every step.
Since each pair is made-to-order, please allow 15 days for delivery. These couture-level creations are hand-painted, so each shoe will have a unique hue and polish. As a result, the color may differ slightly from the picture, making each pair one-of-a-kind.
```