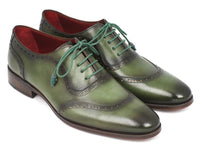 Paul Parkman Men's Green Calfskin Oxfords (ID#K78-GRN)
$634.00
Paul Parkman Men's Green Calfskin Oxfords (ID#K78-GRN) are perfect for the modern man looking to make a statement with his footwear. Handcrafted with a green hand finished calfskin upper and leather wrapped laces, these oxfords are a unique and stylish choice for any occasion.
With a green and black leather sole, bordeaux inner sole, and lining, these shoes are not only fashionable but also comfortable for all-day wear. Plus, as a made-to-order product, you can expect your shoes to be delivered within 15 days.
Each pair of oxfords is hand-painted and crafted to couture-level perfection, giving them a one-of-a-kind hue and polish. Please note that the color may differ slightly from the picture, adding to the exclusivity of your new shoes.