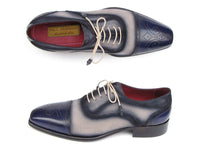 Paul Parkman Men's Captoe Oxfords - Navy / Beige Hand-Painted Suede Upper and Leather Sole (ID#024-BLS)
$600.00
Meet the Paul Parkman Men's Captoe Oxfords - a stylish blend of navy and beige, hand-painted on the finest Italian calfskin suede. The perfect companion for the modern man who values comfort, style, and a little artistic flair in his footwear.
With a perforated, navy leather cap-toe Oxford style, these shoes are a nod to classic men's fashion. But it's the details that truly make them stand out. Leather-wrapped laces, bordeaux lining, and an inner sole bring a richness and depth to their design. And let's not forget the navy and brown antiqued leather sole, rounding off the perfect blend of color and texture.
These aren't your average, off-the-shelf Oxfords. Each pair is made-to-order, taking around 15 days to deliver. But the wait is worth it. As each shoe is hand-painted, they sport a unique hue and polish, meaning your pair will be one-of-a-kind. Note the color may differ slightly from the image – but that's all part of the charm.
So, why not treat your feet to some couture-level creations? Step out in style with the Paul Parkman Men's Captoe Oxfords.