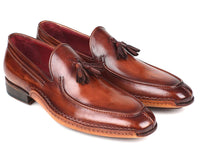 Paul Parkman Hand-Sewn Tassel Loafers Brown (ID#082-BRW)
$781.00
Paul Parkman Hand-Sewn Tassel Loafers Brown (ID#082-BRW) are the perfect blend of style and comfort for the modern man. These side hand-sewn tassel loafers feature a slip-on style opanka construction for easy wear and a secure fit.
The upper is crafted from luxurious brown hand-painted leather, while the sole and lining are made of premium bordeaux leather, ensuring durability and long-lasting quality.
This made-to-order product is carefully crafted with attention to detail, so please allow 15 days for delivery. As each pair is hand-painted, expect a unique hue and polish, making your shoes one-of-a-kind. Please note that color may differ slightly from the picture due to the couture-level creations.