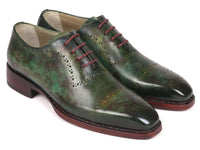 Paul Parkman Green Marble Patina Goodyear Welted Oxfords (ID#56GRN37)
$925.00
Paul Parkman Green Marble Patina Goodyear Welted Oxfords (ID#56GRN37) are a luxurious and stylish choice for the modern man. Hand-painted with a unique green marble patina, these Oxfords are sure to make a statement. The Goodyear welted construction ensures durability, making them a reliable and long-lasting investment for your wardrobe.
Featuring a natural burnished double leather sole and complemented by brown shoelaces, light green leather lining, and inner sole, these Oxfords offer a perfect balance of sophistication and comfort.
This is a made-to-order product, so please allow 15 days for delivery. Each shoe is a couture-level creation with a unique hue and polish, guaranteeing that your pair is one-of-a-kind.