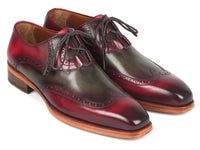 Paul Parkman Goodyear Welted Ghillie Lacing Brogues Green & Bordeaux (ID#2955-GRB)
$882.00
Step up your style game with the Paul Parkman Goodyear Welted Ghillie Lacing Brogues in an eye-catching Green & Bordeaux combo (ID#2955-GRB). These aren't just any dress shoes; they're a testament to impeccable craftsmanship and bold fashion statements.
Experience the unmatched comfort of a double leather sole, united with a Goodyear welted construction that promises durability and a touch of class. The hand-painted leather upper dances in shades of green and bordeaux, ensuring every pair is as unique as the gentleman wearing them.
Handcrafted with love and care, these brogues require a little patience. Allow us 15 days to carefully craft and deliver your new favorite shoes. Trust us, they're worth the wait. Embrace the individuality of hand-painted perfection and step out in a pair of brogues that's truly one-of-a-kind.