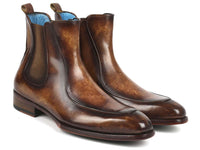 Paul Parkman Brown Hand-painted Chelsea Boots Goodyear Welted
$928.00
Hey shoe aficionado! Step into a world of refined elegance with our Paul Parkman Brown Hand-painted Chelsea Boots. These aren't just any boots – they're a testament to your impeccable style.
Handcrafted with the utmost care, each pair boasts a unique hand-painted finish on supple brown leather, meaning your boots are one-of-a-kind – just like you. The hallmark of quality, our Goodyear welted construction, assures durability and an extra touch of class.
Sink your feet into the comfort of our blue leather lining and cherish the exclusive feel of the natural burnished leather sole. It's not just a boot; it's your new statement piece.
Hand-painted with passion and precision for a distinctive look
Goodyear welted construction for lasting wear and easy resoling
Luxurious blue leather lining for that hidden pop of color
Give us a little time to perfect your order - just 15 days and they're on their way to you. Remember, your boots might have a slightly different color than the pictures – that's the beauty of handcrafted art.
Join the league of extraordinary gentlemen choosing the Paul Parkman Brown Hand-painted Chelsea Boots for a touch of luxury every step of the way.