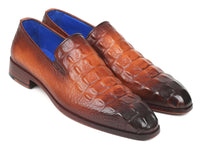 Paul Parkman Brown Crocodile Embossed Calfskin Loafers
$578.00
Paul Parkman Brown Crocodile Embossed Calfskin Loafers (ID#5576-BRW) are the perfect blend of sophistication and style for men who appreciate fine footwear. Crafted from luxurious crocodile embossed calfskin leather, these loafers are a true standout.
These hand-painted loafers feature an antique burnished leather sole, ensuring a timeless, classic look that's perfect for any occasion. The blue leather lining and inner sole add a touch of elegance and comfort to these already exceptional shoes.
This is a made-to-order product, so please allow 15 days for delivery. Each pair is meticulously hand-painted and crafted, resulting in a unique hue and polish. As a result, the color may differ slightly from the picture, adding to the exclusivity of these couture-level creations.
Enjoy free shipping and easy returns from our home office in San Diego, CA, USA 92154. Experience the luxury and craftsmanship of Paul Parkman footwear with these exquisite crocodile embossed calfskin loafers.