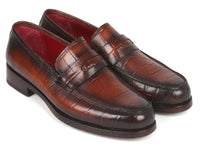 Paul Parkman Brown Crocodile Calfskin Penny Loafers
$578.00
Paul Parkman Brown Crocodile Embossed Calfskin Penny Loafers (ID#3857-BRW) are the perfect choice for the modern man. Hand-painted in brown, these penny loafers feature a crocodile embossed calfskin leather upper, antique burnished leather sole, and bordeaux leather lining and inner sole.
This is a made-to-order product, so please allow 15 days for delivery. Because each shoe is hand-painted and couture-level, the hue and polish may differ slightly from the picture.
Shop with confidence knowing that WKshoes offers free shipping, satisfaction guaranteed, and easy returns from their home office in San Diego, California.