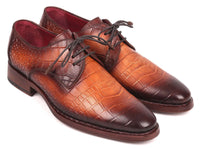 Paul Parkman Brown Crocodile Embossed Shoes
$740.00
Step up your shoe game with the Paul Parkman Brown Crocodile Embossed Derby Shoes. Handcrafted for the modern man, these sharp-looking shoes boast a hand-painted calfskin upper with a sophisticated crocodile-embossed pattern that's sure to turn heads. But it's not just about looks – the Goodyear welted construction and double leather sole ensure durability and comfort.
With a rich Bordeaux leather lining and innersole, your feet will indulge in luxury with every step. Patience pays off, as each pair is made-to-order and delivered to your doorstep in 15 days. Remember, being unique is your strength; slight variations in color and finish are the hallmarks of your bespoke pair.
At WKshoes, we've got you covered with free shipping, guaranteed satisfaction, and hassle-free returns from our San Diego HQ. Get ready to stride in style with these exquisite Paul Parkman shoes – a true investment in your wardrobe!
Hand-painted calfskin upper with crocodile-embossed detail
Goodyear welted construction for longevity
Double leather sole with natural burnish
Luxurious Bordeaux leather interior
Handcrafted and made-to-order, exclusive to your feet