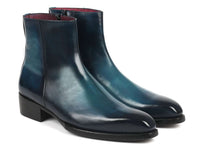 Paul Parkman Blue Burnished Side Zipper Boots Goodyear Welted
$948.00
Step up your style game with a pair of Paul Parkman Blue Burnished Side Zipper Boots. Meticulously handcrafted for the dapper gentleman, these boots are not just any ordinary footwear. They're a statement of elegance with their striking blue burnished leather that catches the eye and turns heads.
Every step is a stride in luxury thanks to the Goodyear welted construction, known for its durability and ease of repair. The handcrafted fiddle waist double leather sole adds an extra touch of class, ensuring you're stepping out in both comfort and style. Inside, the natural leather lining nestles your feet, while the inner sole promises comfort that lasts from your morning coffee to your evening nightcap.
Remember, good things come to those who wait - these boots are worth it. Tailored just for you, allow 15 days for delivery. And because uniqueness is the ultimate luxury, each boot is hand-painted to perfection, meaning your pair will be one-of-a-kind. The color may vary slightly from the photos, but that just means your boots will be as unique as your personal style.
Whether it's a boardroom or a night out, these Paul Parkman boots are your secret to sartorial success. Prepare to make your mark with every step.