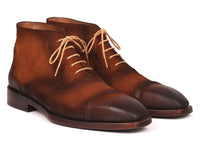 Paul Parkman Antique Suede Brown Cap Toe Ankle Boots
$936.00
Paul Parkman Antique Suede Brown Cap Toe Ankle Boots (ID#644BRW17) are the perfect choice for the modern man. Crafted with a brown antique suede upper and a cap toe design, these boots are sure to make a statement.
The Goodyear welted construction and double leather sole provide superior comfort and durability. The natural leather lining and inner sole make these boots a luxurious addition to any wardrobe.
This is a made-to-order product, so please allow 15 days for delivery. Because each shoe is hand-painted and couture-level, the hue and polish may differ slightly from the picture.
Free shipping
Easy returns
Order now to add a touch of luxury to your wardrobe.