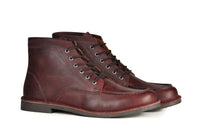 Hound and Hammer Men's Laced Leather Boots, Oxblood
$141.00 $153.00
Step up your style game with the Hound and Hammer Men's Laced Leather Boots in eye-catching Oxblood. These boots aren't just a treat for the eyes; they're fashioned with real dedication, featuring a robust "stitch-out" construction for durability that matches your life's pace. The TPR (Thermo-Plastic-Rubber) outsole brings the comfort of crepe with each step, while a high-walled toe adds character and poise to your stride.
The allure of classic suede gets a personal touch, with hand-burnished edges, toe, and heel areas that tell a story of craftsmanship. These aren't just boots; they're your next wardrobe staples. And the best part? We're making shopping worry-free with complimentary shipping across the USA and a quick 3/5 day delivery window.
Your satisfaction is our top priority. If you're not head over heels with your new boots, our easy return policy has got you covered. Embrace the fusion of tradition and modern style with these laced leather beauties today!