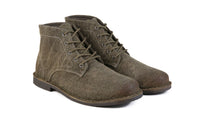 Brown Vegan Boots
$145.00 $154.00
Mens Vegan Boots
Step out in style with our Hound & Hammer sage brown vegan boots. Whether you're hiking or heading out for the day, these classic round-toe boots will keep you looking cool and modern.
Our boots are completely leather-free, making them the perfect choice for animal lovers. Plus, the burnished coarse canvas is lightweight and breathable, providing airflow and everyday comfort.
With a TPR rubber outsole, you'll have flexible and slip-resistant movement, no matter where the day takes you.
Experience the season on a different, comfy, and chic level with our distinctive brown vegan boots.
Free USA Shipping Delivery 5/7 Days. Satisfaction Guaranteed. Easy Returns.
Buy online today and take advantage of our special discount price. Help save the planet with these non-animal men's brown vegan boots.
Home office: San Diego, California 92154 USA.