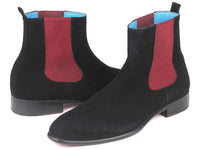 Paul Parkman Black Suede Chelsea Boots
$468.00
Step up your style game with the Paul Parkman Black Suede Chelsea Boots (ID#SD841BLK). Embrace sophistication with their plush black suede and make a statement with every step thanks to the striking purple hand-painted sole. The comfort? Check—it's all there with the blue leather lining and inner sole.
Patience is a virtue, especially for quality. Each pair is carefully handcrafted to order, so we ask for 15 days to perfect and deliver your boots. Remember, you're not just wearing shoes; you're wearing a piece of art. The slight variations in color are the signature of the Paul Parkman touch.
Ready for the perfect blend of elegance and exclusivity? Get your feet into a pair of these bespoke beauties by shopping at wkshoes.com. Your wardrobe will thank you. Oh, and we're based out of the sunny side of San Diego, California 92154 USA – sending you the best, coast to coast.