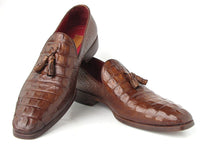 Paul Parkman Brown Crocodile Embossed Tassel Loafer
$432.00
Paul Parkman Brown Crocodile Embossed Tassel Loafer
Step up your style game with the Paul Parkman Men's Brown Crocodile Embossed Calfskin Tassel Loafer. This stylish slip-on shoe is perfect for the modern man who appreciates quality craftsmanship and unique design.
Made from hand-painted crocodile embossed calfskin, these loafers feature a natural antiqued leather sole and luxurious bordeaux leather lining. Each pair is made to order, so please allow 15 days for delivery. Please note that due to the hand-painted nature of the shoes, the hue and polish may vary slightly from the product image.
Enjoy free shipping and easy returns from our office in San Diego, California. Shop with confidence and experience the exceptional style of Paul Parkman's Brown Crocodile Embossed Tassel Loafer.
Hand-painted crocodile embossed calfskin
Natural antiqued leather sole
Bordeaux leather lining
Made to order
Free shipping
Easy returns