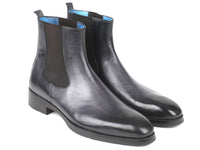 Paul Parkman Black & Gray Chelsea Boots
$491.00
Paul Parkman Black & Gray Chelsea Boots (ID#BT661BLK) are a stylish and reliable choice for any man.
The upper is hand-painted in black and gray, and the sole is made of black rubber. The inner sole and lining are made of blue leather, giving the boots a luxurious feel.
This is a made-to-order product, so please allow 15 days for delivery. Because all Paul Parkman dress shoes are hand-painted and couture-level creations, each shoe will have a unique hue and polish, and color may differ slightly from the picture.
WKshoes.com home office:  San Diego, Calif., USA 92154