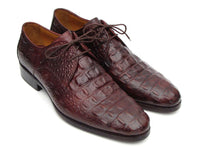 Paul Parkman Brown & Bordeaux Crocodile Derby Shoes
$419.00
Step into a world of sophistication with the Paul Parkman Brown & Bordeaux Crocodile Derby Shoes. Each pair is a unique work of art, hand-painted with passion for the gentleman who appreciates a touch of luxury in his stride. The rich texture of crocodile embossed calfskin leather pairs with a vintage burnished touch on the durable double leather sole, ensuring every step is a statement.
The warm camel-toned leather lining cradles your feet in comfort, making these derbies more than just a style statement; they're a wearable indulgence. As a made-to-order treasure, crafted just for you, expect your exclusive footwear to arrive at your door in about 15 days. Remember, like fine wine, each shoe's color and finish may have its own subtle character, distinct from the rest.
From sunny San Diego, California, we at WKshoes can't wait for you to experience the blend of tradition and trend that these shoes bring to any ensemble. They're not just shoes; they're the hallmark of a well-dressed man.