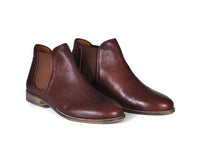 Hound and Hammer Chelsea Shoe Boots, Cognac
$111.50 $121.25
Mens Chelsea Shoe Boots
Step into style with the Hound and Hammer Chelsea Shoe Boots in Cognac. These boots are the perfect blend of classic and contemporary, offering a timeless look with a modern twist.
Crafted from premium leather, these boots feature a sleek silhouette and a comfortable fit, making them ideal for all-day wear.
The elastic side panels make slipping these boots on and off a breeze, while the durable rubber sole provides excellent traction and long-lasting wear.
The rich cognac color adds a touch of sophistication to any outfit, making these boots versatile for any occasion. Whether you're dressing up or down, these boots will take you from day to night in style.