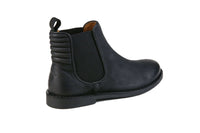 Hound and Hammer Black Leather Chelsea Boots
$102.25 $111.25
Mens Chelsea Boots
Best Selling: HOUND and HAMMER Black Leather Chelsea Boots Your shoes can say a lot about who you are! Add a dash of sophistication to any outfit with these fantastic mens Chelsea boots from WKshoes. Featuring a sleek attractive design with shiny burnished leather and quality stitching, these stunning black padded boots make an ideal companion for chilly autumn days.
Short block heel offers the sophisticated look you`ve always wanted. Breathable Leather Wide Fit Soft Glove Leather Lining Perfect fashionable choice for both casual and formal occasions Great gift idea for any man you care about.
Add WKshoes black leather Chelsea boots to your cart now and enjoy a hint of refinement and style for any occasion! See Complete Selection Of Leather & Suede Chelsea Boots Here: All Popular Sizes In Stock 🚚 FAST 5 Day Delivery FREE USA Shipping 🚚 Satisfaction Guaranteed Easy Returns.